Saturday, January 23, 2016
11:30am, High,medium high cloud cover with light rain around along S-coast Andhra, N-coast Tamilnadu.. https://d2jhuj1whasmze.cloudfront.net/photos/normal/g85Yo.jpg
12:30pm, #Chennai RADAR shows "no" significant cloud buildup along coast or interiors ... https://d2jhuj1whasmze.cloudfront.net/photos/normal/g8617.jpg
Wind confluence is happening along S-coast Andhra & Chennai & N-coast Tamilnadu ... https://d2jhuj1whasmze.cloudfront.net/photos/normal/g863S.jpg
Easterlies are nearing Tamilnadu coast, expected to reach tonight along central,SE-coast Tamilnadu ... https://d2jhuj1whasmze.cloudfront.net/photos/normal/g868B.jpg
Presence of low-level Anti-cyclone over NE Andhra will drive easterlies further South below 11/10 N along TN coast .. https://d2jhuj1whasmze.cloudfront.net/photos/normal/g86bY.jpg
#Chennai - Till now (1:17pm) from midnight, got some passing drizzles / light rain.
Now its "warm & cloudy with 29.3 C" @IWMpolichalur
In next 24hrs, For #Chennai, S-coast Andhra, NE,N-coast Tamilnadu,
Cloudy with Scattered light / moderate rain possible.
For #Chennai and S-coast Andhra, Less / NO rain expected after 3pm of Sunday.
It can be cloudy and warm till Monday afternoon.
Due to easterlies,
Scattered moderate rain, central,SE coast and adjoining interior Tamilnadu expected from night, 23-Jan to morning, 25-Jan
DRY conditions to return to entire Tamilnadu after evening of Monday, 25-Jan.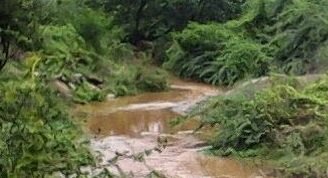 RT @rssmoorthy:
#Mettupalayam #rains MEANS joy 2 many as #jungle #streams are again with running https://t.co/yjzcNlGrxJ
RT @anu6jay:
22-Jan, 6:22am, Morning rain😍😍 aana road ellam sagadhi😒😒
Mettupalayam, Rainy morning all😃
>> got 22 cm in 7hrs !