Today, the S Rajasthan circulation has moved N-N-E and weakened over N,N-central Rajasthan.. http://static.ow.ly/photos/normal/c5Ib5.jpg
During past 24hrs, the N Bay LOW has intensified into a Cyclone, now very near to S-S-E Bangladesh coast .. http://static.ow.ly/photos/normal/c5Ids.jpg
Now, the Cyclone is named as Komen, this is expected to be short-lived as it is expected to make landfall by drifting N,N-N-W in 12/18 hrs.
10:30am, One can see the 2 circulations and the clouding around it. Entire N,N-E,N-W,central Bay is very active .. http://static.ow.ly/photos/normal/c5Iin.jpg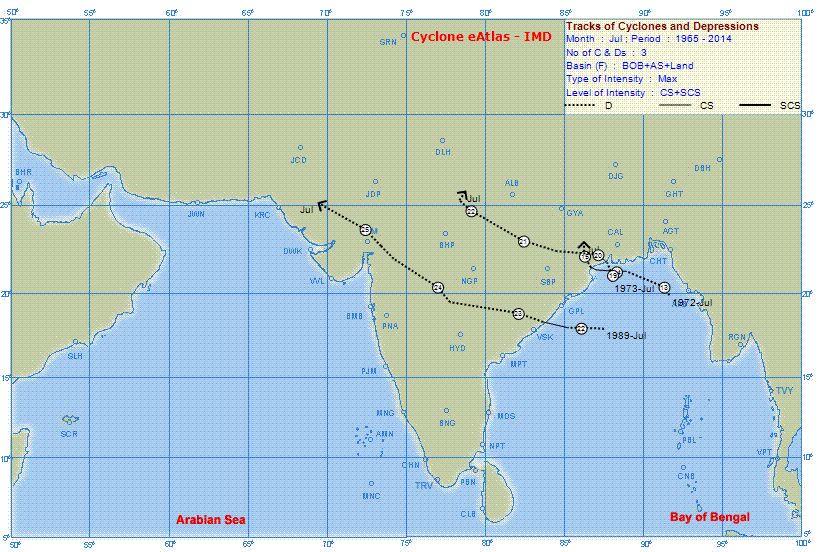 RT @ChennaiRains: @Cycloneoi Cyclone in North Ind Ocean after 25 years, July,First since 1989 http://t.co/pP07fXWWk2 http://t.co/D2cfHCdaAZ
GFS, JTWC expects the Cyclone Komen to move North and make landfall over S coast Bangladesh and move W-N-W to Bengal .. http://static.ow.ly/photos/normal/c5J5I.jpg
11:30am, Komen - ADT analysis ... pressure = 995.3mb, Winds gusting to 70/80 kmph. "No weakening observed".
Landfall in next 6 to 10hrs.
By morning, 1-Aug... remnant of Komen will be over S,central Bengal as Depression.. http://static.ow.ly/photos/normal/c5JiC.jpg
On Saturday, 1-Aug.. the present Rajasthan circulation is expected to drift into central Pakistan and fizzle out .. http://static.ow.ly/photos/normal/c5JA0.jpg
The remnant of Komen is expected to travel West into Jharkhand and then to central Chatisgarh on 2/3-Aug.. http://static.ow.ly/photos/normal/c5JIm.jpg
Rainfall alert for next 36hrs
~~~~~~~~~~~~~~~~~~~~~~~~~~~~~
Before morning of 31-Jul,
Heavy widespread rain for Bengal, Jharkhand, N-coast Odisha and Bihar... http://static.ow.ly/photos/normal/c5K37.jpg
Due to Rajasthan circulation..
Scattered Heavy rain will be over W,central, N,E Rajasthan in next 18hrs.
During next 24hrs, coastal Maharastra is expected to get scattered moderate / heavy rain including Mumbai.
For S Karnataka, #Bangalore, N,N-E Tamilnadu, S,central coast Andhra, #Chennai moderate / light rain possible after 6pm today.
On 31-Jul, as Komen drifts West into Bengal.
Widespread HEAVY rain for N,N-E Odisha, Bengal, Jharkhand, E Uttarpradesh, N,central Chatisgarh
On 31-Jul, Some of heavy rain will also push into E Madhyapradesh as well.
Heavy scattered rain also possible all along Northern zones of Monsoon axis..i.e.. E Bihar, E,central,N Uttarpradesh into Uttarakhand.
Remnant of Rajasthan circulation will continue to pop more rain for N,N-W Rajasthan on 31-Jul.
On 31-Jul, the HEAVY T showers are expected to be back for S,S-E Karnataka, Bangalore, N,N-E Tamilnadu, Chennai, S Andhra.