The Meteorological Department confirmed that the rainfall (364 mm) during the past 24 hours on 31st July 2010 was the second highest after 25 July 1966 when it rained 467 mm.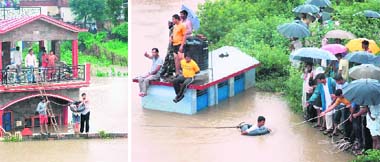 People being rescued in the Morowala area, near Dehradun, on Saturday.

Incessant downpour in the past 36 hours wrecked havoc in Dehradun city. Hundreds of houses got flooded as many boundary walls or constructions gave way to the pressure of gushing flood waters.


Residents cross a flooded stream at Nehru Gram and (right) submerged cars in a workshop in Dehradun on Saturday. Tribune photographs
The encroachers, who had extended their houses on drains or built these entirely on drains, paid for their erroneous acts with their houses getting flooded.
The Irrigation Department, which is required to act in matters related to flooding of houses, had no clue to the extent of the damage. BK Tamta, Director Irrigation, said that he would assess the situation soon. Dr Vijayender Pal, counsellor, complained that despite the PWD and MDDA having their own Disaster Management Cell left it all on the Municipal Corporation to manage the crisis.

Dehra Dun received 364 mm followed by Kashipur 245 mm over the past 24 hours. Excess rain has been recorded in Bageshwar, Chamoli, Champawat, Haridwar and Naini Tal since June 1 while other districts have received normal rainfall, Anand Sharma, Director, State Meteorological Centre here, said.